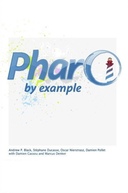 I am associate professor (Maître de conférences) of the UFR IEEA at university of Lille 1 since september 2008, and am affiliated with the Laboratoire d'Informatique Fondamentale de Lille (LIFL), the joint laboratory between Lille 1, Lille 3, CNRS, and Inria.
I teach programming and software engineering at Telecom Lille 1, and research on programming languages and reengineering within the RMoD project-team of Inria.
I'm a co-author of the open-source books Squeak by Example and Pharo by Example.
Curriculum
I received an engineering degree in computer science from Insa in 2001, and obtained my Ph.D in 2005 from the university of Rennes 1, France (details here).
---
See my detailed contact page for more info, the access map to our offices, and my agenda.
Email

research: damien.pollet@inria.fr
teaching: damien.pollet@telecom-lille1.eu

Offices

at Inria: B 304 — +33 (0)3 59 35 87 41
at Telecom: D 109 S
Inria Lille – Nord Europe
parc scientifique de la Haute Borne
40 avenue Halley, bât A, Park Plaza
59650 Villeneuve d'Ascq — France

Web

GitHub – Slideshare – SpeakerDeck – LinkedIn – Viadeo – Flattr
ACM – DBLP – Google Scholar